A feature in which I(you guessed it) rate books instead of reviewing them.

The Girl on the Train
by
Paula Hawkins
DNF.
I love mystery/thrillers, and thought I would really enjoy this one. But I had to put it down about 50 pages in. A lot of profanity and just general inappropriateness.
The Princess and the Goblin
by
George MacDonald
My rating:
4 of 5 stars
I do love a good goblin story. This was a really lovely Classic Children's novel. A bit unbelievable, but fun!
A Separate Peace
by
John Knowles
My rating:
4 of 5 stars
3.5 stars.
One of those I had to read for school which I actually enjoyed. Goodreads describes it as a
description of adolescence during a period when the entire country was losing its innocence to the second world war.
Well written, but the main character bugged me sometimes.
View all my reviews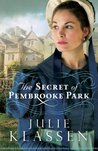 The Secret of Pembrooke Park
by
Julie Klassen
My rating:
5 of 5 stars
Christian Historical Mystery--with a dash of Romance. Abigail and her family are forced to sell their London home, but are offered a stay in an abandoned manor, where long buried secrets come to light. Loved it!
View all my reviews
And this month, I've reviewed:
Daddy-Long-Legs
, a Young Adult Classic written in letter format(as was my review).
Esther: Royal Beauty
, Biblical Fiction.
Habitan: The Parallel Place
, Middle Grade Fantasy
Seraphina
, Young Adult Fantasy(dragons, anyone?).
Anything catch your eye? What are you currently reading?